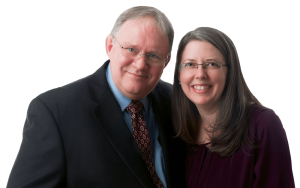 Vera and I are glad you were interested enough to take a look at our church information. Harbour Baptist Church is a new ministry in the process of letting people know who we are and where we are located. It is our hope as you take a few minutes to familiarize yourself with this site that what you have been searching for in a church will be found in Harbour Baptist Church.
It is our desire that Harbour Baptist Church will fill the need of many who are looking for a church that holds a conservative standard with a traditional taste for music and the preaching of God's word. The Bible tells us in Jeremiah 6:16: "Thus saith the LORD, Stand ye in the ways, and see, and ask for the old paths, where is the good way, and walk therein, and ye shall find rest for your souls." If you are looking for a church or have come to the place in your life you wish to know more about God and His love for you, we invite you to call us at 250-327-8812 or contact us through email [email protected]
Please accept our invitation to come for Sunday school and Sunday service, knowing that you will receive a warm welcome. Then make it your goal to come join us each and every Sunday, to be a part of what God is doing in Nanaimo. We look forward to growing together in the Lord as we fellowship around His Word.
If you are looking for a traditional, conservative Baptist church, come for a visit. Harbour Baptist Church's Sunday services consist of Sunday School at 10:00 with the morning service beginning at 11:00.  We meet together in the B.C. Pensioners and Seniors Org. 2465 Labieux Road, Nanaimo.  
COVID-19 UPDATE:  We are now able to meet together!  Out of care and concern for others, we will continue to practice social distancing.   Please note there will be no Sunday evening services.  Please follow our Facebook page @HBCNanaimo for updates and sermons as they are available. 
COVID-19 UPDATE #2: Due to the recent uptick in the number of COVID-19 cases and out of concern for the health and well being of others, we are requesting that everyone wear a mask to our services.  These will be furnished for you at the entranceway.
According to the BCOAP (our landlord), those entering the building will need to take their temperature and record it.  Anyone with a temperature over 37.1 is required to leave.
Please make sure you sanitize your hands and practice social distancing. 
Thank you for your understanding.
Pastor